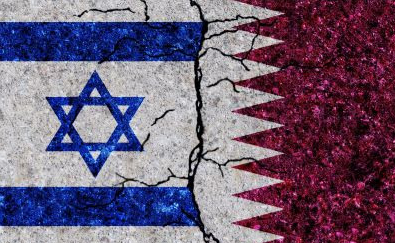 Autore:
Hussein Aboubakr Mansour
World Cup Showcases Qatari Hostility to Israel — A Festival of Hatred
Even though neither Israel nor Palestine is playing in the 2022 World Cup tournament in Qatar, Israeli fans and reporters were met with a climate of hostility and anger that forced many of them to return to Israel. While not covered in the Western media, nearly all Israeli reporters and journalists were the subject of public humiliation, hostility, and threats. Those who have been following the story got a rare glimpse of the Israeli reality of living amidst a sea of absolute rejection and hostility.
The 2022 World Cup in Qatar was the subject of intense media scrutiny and delicate negotiations between Qatari and FIFA officials for years. The primary points of contentions were the issue of LGBTQ presence, public displays of consumption, and alcohol consumption. The Gulf conservative emirate is known for its hyper-conservatism and Islamist policies supporting the Muslim Brotherhood and being a home base for Islamism in the Arab world. Despite its known position of promoting anti-Israel hatred and antisemitism and supporting the terrorist organization Hamas, Qatar agreed to temporarily host Israeli fans and reporters wishing to cover the most important athletic event in the world. This was not much of a concession as it was a non-negotiable demand by FIFA, and it's unimaginable that FIFA would have been able to withstand the backlash resulting from a ban on Israelis. Yet, Qatar made it clear that its accommodation of Israelis is only temporary and managed to still tie to the Palestinian Cause by demanding that Israel allow Palestinian fans to travel to Doha through Ben Gurion airport. About 4000 Israelis responded positively to the arrangement, making their way to Doha only to be met with a shocking, albeit unsurprising, amount of rejection and hatred from Qatari officials, the local population, and other Arab fans.
Israeli reporters, by virtue of visibility, were the target of much of the scorn; much of it was caught on camera. Moav Vardy, the foreign affairs reporter from the Israeli network KAN, was yelled at by Arab fans while he was trying to get an interview and told, "you are not welcome here. There is no Israel, only Palestine!" Other fans simply walked away when they discovered the reporter was from Israel. Ohad Hemo, a reporter from Israel's 12 channel, was yelled at aggressively by a group of Lebanese fans and told there is no such thing as Israel. In many videos, fans brought Palestinian flags and used them to harass and intimidate reporters. But the rejection and the hostile treatment didn't just come from aggressive fans. In one video, renowned Israeli soccer expert Eli Ohana was being driven around in a golf cart by a Qatar police officer. When the officer asked Ohana about his nationality, Ohana casually replied Israel, and the officer seemed startled and uncomfortable. Trying to fix the situation quickly, Ohana said that he was joking, "Portugal. We are from Portugal." The officer was relieved and started laughing, saying, "Oh! You know, when you said Israel, I was about to stop and turn back."
Israeli broadcaster Raz Shechnick has some of the worst moments during this festival of hatred. In multiple segments, he was yelled at and threatened by fans. In one video, he even screamed, "we are from Ecuador," to avoid further hostilities. On his Twitter feed, he wrote a long emotional thread about his shock at the experience, saying that he had always been a leftist from the peace camp, but this experience made him doubt what he thought he knew about the Middle East. But it wasn't just the fans; local businesses also treated Israelis harshly. Another Israeli reporter wrote of one incident when one restaurant owner, after finding out he was Israeli, made the security escort him out of the establishment, took his phone, and deleted the pictures he took of the food. "I felt threatened," he wrote. Afterward, a local taxi driver kicked him out in the middle of the street after finding out he was Israeli.
Pro-Palestinian activists and Palestinian media picked up these stories in the most celebratory ways making video compilations and using them to prove that the Abraham Accords never represented the true opinion of most Arabs. Many of them, including sympathetic Western observers, used them to bolster the claim that the Palestinian Cause pretty much remains the unifying cause of all the Arabs. But while a first emotional impression might indicate such a possibility, this is more of a propagandistic depiction of reality than the truth. All such incidents, including the hysteric waving of Palestinian flags by many Arab fans, were utterly ignored by Emirati, Saudi, and Bahraini media outlets. Many of the Arab Gulf social media personalities sympathetic to the Abraham Accords even used the opportunity to deride Qatar and the hatred the Palestinian Cause produces.
It is essential to remember that of the 3 million residents of Qatar, with its pro-Islamist indoctrination, only 300 thousand are local, and the rest are ex-pat communities mainly made up of people from Pakistan, Bangladesh, Lebanon, Egypt, Muslim African countries, and Palestinians. Not to mention the sizeable temporary population of soccer fans from these countries. This means that the hatred that Israelis experienced in Qatar is a representative sample of the countries with the worst kind of cultural and religious commitment to anti-Zionism. However, there is little doubt such hostility would not have occurred without the official anti-Israel policy and climate that Qatar insists on maintaining and funding domestically and regionally. The UAE is also home to large ex-pat communities from the same countries, yet the experience of Israelis in Qatar is a stark contrast to their experience in the UAE, where Israelis flooded Dubai only to find a welcoming and hospitable environment. The reason that Egyptian, Pakistani, Palestinian, and Lebanese workers in the UAE who might harbor intense hatred for Israel do not try to humiliate and threaten Israeli visitors publicly is that they know that they would be subject to legal repercussions which would likely end their residency and employment in the country. That is, everyone knows that the UAE's official state policy is that Israelis are just like everyone else. One can also make the same claim for Morocco, where Israeli visitors were welcomed long before the Abraham Accords. The intimidation and harassment of Israelis in Doha didn't occur because of the spontaneous outbreak of love of Palestine but because everyone knows the leaders of Qatar approve of it. If this proves anything, it is not that the Abraham Accords do not work; it is that they most certainly do.
What happened in Qatar shows that state policy and, most importantly, leadership matter. Both Qatar and the UAE are culturally and historically very similar. Qatar was even invited to join the UAE when it was established in the 1970s. Yet, the policy choices, and dare I say character, of the leaders of the two countries, manifestly make a huge difference. One country made itself the model of Islamist politics, the other the model of Arab cosmopolitanism. One country fuels conflict and discord and the other seeks to promote compromise and tolerance. The Abraham Accords work, but they work only in countries where they happened, not in an imaginary block of "Arabs" or an ambiguous "Middle East."